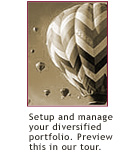 MyStockFund gives your club the freedom to create a diversified stock portfolio. With your club, you decide which stocks to buy, and how much to invest. MyStockFund gives you the opportunity to make it happen.


What is in it for your Investment Club?
MyStockFund helps the first-time club investors to the seasoned clubs with educational articles, detailed company research, quotes, interactive charting and investment terms and definitions. MyStockFund is easy to understand because;
One-screen trading interface MyFundBuilder
At-a-glance detailed histories of current portfolio
Automatic investment program with monthly transfers from checking or savings account
Automatic dividend reinvestment option - (DRIP)
Start now and invest over time.
If your club is ready for an affordable and convenient way to move closer to your financial goals, you'll want to learn more about MyStockFund or subscribe now.

Send a copy of this page in with your completed application and receive a $15 discount off your first year's annual fee.


| | | | |
| --- | --- | --- | --- |
| | | | "Janey is my life. When she's ready for college, I'm going to be ready to help her." Learn more |

"I run a small business and need an easy way to build an investment portfolio. MyStockFund is the answer."

Learn more